Sail & Bike 14 - 't Wapen fan Fryslân
Cruise overview
Sailingarea
IJsselmeer
Embarkation
17-7-2021
16:00
Amsterdam
Debarkation
24-7-2021
09:30
Amsterdam
Costs
1.099,00
Capacity
24
Currently 6 available!
availability subject to change
Complete reservation
Discover amazing Dutch highlights by boat and by bike. With a travel guide you'll discover the area around the IJsselmeer and visit some of the typical dutch villages. It doesn't get any more Dutch!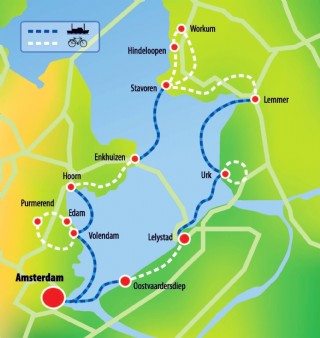 During this active cruise aboard the Wapen fan Fryslân - a comfortable two-masted schooner - you'll visit the IJsselmeercoast. During the days, the program features an individual bike tour, a stretch of sailing to the next port or both. On board, there is plenty opportunity to relax as well - there's a very comforatble bar /lounge, a large diningroom, seating and even a jacuzzi on deck and not to mention your very comfortable cabin.

The trip will start and end in Amsterdam.
The exact route depends on the weather, but the following itinerary is aimed for:

Day 1: Amsterdam - Volendam
Boarding between 13:00 and 14:00. After checking in the ship will leave and sail (by engine) to Monnickendam or Volendam. From here we make the first bike ride through the natur reserve 'Waterland'.
Cycletour: approx. 10 km

Day 2: Volendam - Hoorn
We start the day with a visit and demonstration in a cheese farm and wooden shoe factory. Then we cycle over the dike to Purmerend. After Purmerend we cycle to Edam, where we will make a city walk. Afterwards we cycle to Volendam, where the ship has moored. After dinner, a walk through Volendam can be made, but late at night the ship leaves for Hoorn.
Cycletour: approx. 36 or 50 km

Day 3: Hoorn - Enkhuizen
Today's bike ride takes us to Enkhuizen. We cycle along the mill 'De Krijgsman', the highest windmill in North Holland. Enkhuizen was one of the richest cities in Holland in the 17th century. This was mainly due to the import of expensive spices. Today we still see this richness in the stately mansions and the city wall.
Cycletour: approx. 26 or 39 km

Day 4: Enkhuizen - Stavoren
Under suitable weather conditions the ship sails over the IJsselmeer to Stavoren. After arrival we cycle to Hindeloopen, one of the Frisian eleven cities. From Hindeloopen we cycle to Workum where you have the opportunity to visit the Jopie Huisman museum. This museum is the work and life Jopie Huisman, a dedicated to realism Frisian painter.
Cycletour: approx. 25 or 37 km

Day 5: Stavoren - Lemmer
Today's bike tour goes over the dike along the IJsselmeer and through the beautiful Gaasterland. We make a stop in Sloten, the smallest of the eleven cities. Here you can stroll through the canals and enjoy the lunch break. Then we cycle the last stage to Lemmer.
Cycletour: approx. 33 or 40 km

Day 6: Lemmer - Urk
In the morning we sail across the IJsselmeer to the port of Urk. In Urk you may stroll through the narrow streets and alleys. The houses in this picturesque fishing village were built close to one another on elevated grounds to protect them against the water, and that is still visible today. In the afternoon a short optional bike ride is planned through the Northeast polder (Noordoostpolder).
Cycletour: approx. 25 km (loop)

Day 7: Urk- Lelystad - Blocq van Kuffelen - Amsterdam
After breakfast you'll debark for your last half day of cycling. Your last bike ride btings you to the Oostvaardersplassen. The route through this relatively new nature reserve is very varied. One moment you cycle through the forest and the next moment you will be surprised by panoramas over vast grass and swamp areas. After the bike ride a sailing trip of approx. 2 hours will bring us back to Amsterdam
Cycletour: approx 20 or 28 km

Day 8: Amsterdam - check out
After breakfast you will check out before 9:30.

This trip is accompanied by a guide. This means that the daily bike tours are accompanied by an experienced tour guide.

The daily routes for the ship depend on the weather and wind conditions. The skipper determines the exact sailing program per day and consults this with the guests. A bit of adventure is part of this trip.
All bicycle distances are approximate. You can adjust these according to your own wishes. If you do not want to cycle for a day, you can stay on board and sail with the ship.
Price per person
| | |
| --- | --- |
| Private cabin * | EUR 1.648,00 |
| Twin cabin | EUR 1.099,00 |
| Triple cabin * | EUR 999,00 |
| Child reduction ** | 15% |
* Private cabins and triple cabins have a limilted availability. Please contact us if you wish to book a one of these cabins.

** Reduced rates for families with children: We offer a reduced rate for children on the Sail & Bike IJsselmeer Tours: 15% reduction for children up to incl. 15 years of age, only applicable when staying in the same cabin with 2 adults (triple cabin).
Included
Accommodation in your booked cabin
Bedding and towels
All meals (7 x breakfast, 6 x lunch or lunchbag for during the cycling, 7 x three-course diner)
Welcome drink
Tour leading and daily briefing by the tour guide
Detailed maps and descriptions of the cycling routes
Coffee and tea daily until 16:00 complimentary
Not included
Drinks
Coffee and tea after 16:00
Transfers to and from Amsterdam
Bike rental (see below)
Helmet rental
Parking fees
Personal expenses, entry fees, excursions, ferry costs
Travel insurances
Limitation of liability (damage) rental bicycle EUR 10,00 /week
Limitation of liability (damage) rental e-bike EUR 25,00 /week
Parking own bicycle: € 10,00 per week
Parking + charge station own E-Bike: € 25,00 per week
Bike rental
We offer you the opportunity the rent a bike for the entire trip. The bike will be waiting for you on board when you check in. These bikes are unisex-touringbikes with 7 gears. Other bikes (e.g. e-bikes or childrens bikes) and kiddyseats are only available on request prior to your booking!

Prices:
Standard touringbikes with 7 gears: € 85,00 per week
E-bike with 3 support-levels and 7 gears (range: 60 - 65 km): € 185,00 per week (limited availability)

The costs for bringing and parking your own bike on board are € 10,00 per week for a regular bike and € 25,00 per week for an e-bike. Allthough we will handle and store your bike carefully, neither the crew nor the touroperator or its resellers can take responsability for damage or loss of your belongings - including your bike.

Bicycle helmets are not on board, but can be rented at € 10.00 per person. You must recerve your helmet by booking.
If you make a reservation with the form below, it is still preliminary. We will contact you and inform you about the available cabins. Please let us know if you want to participate on the tour and we will send you the agreement. After you signed the agreement within 3 days your booking is official.
Complete reservation
Click here how we manage your personal data