Sail & Bike 5 - 't Wapen fan Fryslân
Cruise overview
Sailingarea
Waddenzee | Wattenmeer | Wadden Sea
Embarkation
28-5-2022
14:00
Enkhuizen
Debarkation
4-6-2022
09:30
Enkhuizen
Costs
1.079,00
Capacity
24
Currently 8 available!
availability subject to change
Complete reservation
Discover amazing Dutch highlights by boat and by bike. You'll discover the area around the IJsselmeer and visit some of the typical dutch villages. It doesn't get any more Dutch!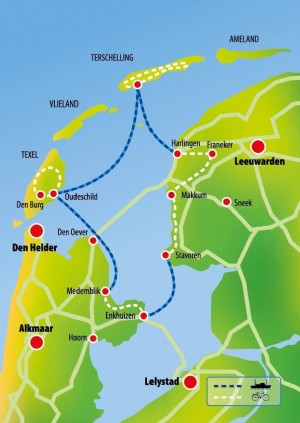 During this active cruise aboard the Wapen fan Fryslân - a comfortable two-masted schooner - you'll visit the IJsselmeercoast. During the days, the program features an individual bike tour, a stretch of sailing to the next port or both. On board, there is plenty opportunity to relax as well - there's a very comforatble bar /lounge, a large diningroom, seating and even a jacuzzi on deck and not to mention your very comfortable cabin.

The trip will start and end in Enkhuizen, near the trainstation. The exact route depends on the weather, but the following is aimed for:

Day 1: Enkhuizen
Boarding from 16:00. The ship is in walking distance from the trainstation near the historic city centre in Enkhuizen. After checking in, you'll have the opportunity for a walk in Enkhuizen.

Day 2: Enkhuizen - Medemblik sailing Medemblik - Den Oever / Oudeschild (Texel)
After breakfast you will cycle along the IJsselmeer coast from Enkhuizen to Medemblik. Afterwards we sail with the ship to Den Oever, or, if the weather conditions are favorable, continue to Texel.
Cycletour: approx. 24 or 37 km

Day 3: Texel
The ship will stay in Oudeschild - Texels fishervillage - today, so you'll have all day to discover the versitile Island. Texel features over 25km of beaches, a vast network of dedicated bicycleroads. Today, you can go your own way, but the crew can advise you on the different possible routes and excursions: the Ecomare Sealife Shelter Visitor Centre or the traditional beer brewery for instance.
Cycletour: approx. 40 or 46 km

Day 4: Texel - Terschelling
We'll try to reach Terschelling under sail, a breathtaking trip across the Wadden Sea. When we're Lucky and the tide is favorable, we'll be able to spot a group of seals sunbathing on a sandbank. You'll have the opportunity to sail the ship together with the crew, so you can still have an active day if you wish to. During the sailing trip, when weather conditions permit an extensive lunch on deck instead of dinner tonight. In the afternoon the ship berth in the port of West-Terschelling. You have every opportunity to make a landing, since no onboard dinner is served on board (you can make sandwiches).

Day 5: Terschelling - Harlingen
You have the whole day to explore the island. Terschelling features over 30km beaches, a wide variety of gastronomic beach pavilions, several nature reserves with unique birdspecies and, like the other Wadden Islands, a vast network of mostly dedicated bicycleroads. You'll not be bored for sure! In the afternoon the ship sails back to Harlingen on the Frisian Mainland.
Cycletour: according your own insight

Day 6: Harlingen - Franeker - Makkum
Your biketour starts in Harlingen this morning. Harlingen is the most important harbor city of Friesland. Via Franeker, with the famous planetarium of Eise Eisinga, you cycle through the beautiful wide Frisian countryside along several villages to Makkum. Do you take the option of the long cycling trip, you then will
also visit Bolsward, one of the Frisian Eleven Cities.
Cycletour: approx. 50 - 60 km

Day 7: Makkum - Stavoren sailing to Enkhuizen
After breakfast you can cycle from Makkum to Stavoren. The route goes via the old trading village Hindeloopen. The Hindelooper art of painting is world famous. From Stavoren the ship sets sail back to Enkhuizen.
Cycletour: approx 30 - 50 km

Day 8: Enkhuizen
After breakfast you will check out.

The daily routes for the ship depend on the weather and wind conditions. The skipper determines the exact sailing program per day and consults this with the guests. A bit of adventure is part of this trip.
All bicycle distances are approximate. You can adjust these according to your own wishes. If you do not want to cycle for a day, you can stay on board and sail with the ship.
Prices per person
| | |
| --- | --- |
| Private cabin * | EUR 1.618,00 |
| Twin cabin | EUR 1.079,00 |
| Triple cabin * | EUR 979,00 |
* Private cabins and three-bed cabins have a limilted availability. Please contact us if you wish to book a one of these cabins.
Included
Accommodation in your booked cabin
Bedding and towels
All meals (7 x breakfast, 5 x lunchbag for during the cycling & 1 x lunch on board, 6 x three-course diner & 1 x sandwiches)
Welcome drink
Daily briefing by the captain / crew
Detailed maps and descriptions of the cycling routes
Coffee and tea daily until 16:00 complimentary
Not included
Drinks
Coffee and tea after 16:00
Transfers to and from Enkhuizen
Bike rental (see below)
Parking fees
Personal expenses, entry fees, excursions, ferry costs
Travel insurances
Limitation of liability (damage) rental bicycle €10/week
Limitation of liability (damage) rental e-bike €25/week
Parking own bicycle: € 10,00 per week (limited number of parking places available, reservation by booking)
Parking + charge station own E-Bike: € 25,00 per week (limited number of parking places available, reservation by booking)
Fuel costs surcharge (cash payment on board)
Bike rental
We offer you the opportunity the rent a bike for the entire trip. The bike will be waiting for you on board when you check in. These bikes are unisex-touringbikes with 7 gears. Other bikes (e.g. e-bikes or childrens bikes) and kiddyseats are only available on request prior to your booking!

Prices:
Standard touringbikes with 7 gears: € 85,00 per week
E-bike with 3 support-levels and 7 gears (range: 60 - 65 km): € 185,00 per week (limited availability)

If you want to bring your own bicycle, we charge € 10.00 p.w. for a normal bicycle and € 25.00 p.w. for an e-bike.
Allthough we will handle and store your bike carefully, neither the crew nor the touroperator or its resellers can take responsability for damage or loss of your belongings - including your bike.

Bicycle helmets are not on board, but can be rented at € 10.00 per person. You must recerve your helmet by booking.
If you make a reservation with the form below, it is still preliminary. We will contact you and inform you about the available cabins. Please let us know if you want to participate on the tour and we will send you the agreement. After you signed the agreement within 3 days your booking is official.
Complete reservation
Click here how we manage your personal data